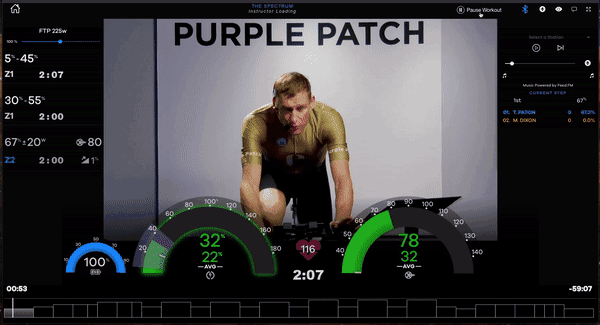 This year, we're transitioning to a new live/VOD platform for our bike and strength sessions.
We know there will be many questions about thew new platform. We've dropped answers to some of the most common ones below, but you can email any questions to info@purplepatchfitness.com.
Why are we doing this?

Check out Matt's full video about the platform here:




Performance: You trust Purple Patch to help you get the best training, and achieve the best results. This is something we take seriously, and this platform allows us to do that.
Growth: We understand your results flow from proper execution of our training. This platform drives adherence to the proper intent and execution of each session.
Value: The new platform truly provides the "best of all worlds," fixing many of the limitations of our previous platforms and adding many features you've requested.
Connection and accountability: We have a wonderful like-minded athlete community across the world, and the new platform provides an opportunity to motivate, connect and share your training journey to amplify all our results.

This is an important and exciting upgrade to our live and on-demand experience, and represents a massive evolution in our capacity to deliver the most effective training possible.

We strongly encourage every Purple Patch athlete to adopt this new platform. We know change is never easy, so we ask you to come to this transition with an open mind.If you do, we promise:

This platform will be a catalyst to accelerate the results from your training.
We will improve. Our results will get better - individually and collectively.

We fully believe in this new evolution. Let me outline why we are making this transition:
When will the new platform launch? Where will I get my login details?

We'll begin "pre-loading" athletes onto the new platform on February 20. We'll keep you updated every step of the way via email. The new platform will officially launch March 6.
What will be different?

Independent audio/music control: you'll be able to control instructor audio independent of music, and use either the built-in feed.fm music channels or your own tunes.
For the STRENGTH sessions: not too much. The experience will be very similar to our current VOD platform.
For the BIKE sessions: quite a bit, depending on your specific setup. We'll go into more detail below, but here's the highlights:

Gear-based power shifts: Rather than using ERG mode, you'll use your gears to stay within target ranges for the workout. This better replicates the skills needed for outdoor riding and helps keep you present and highly focused on the session.
Live onscreen metrics: you'll be able to see power, cadence, and heart rate in real time (requires smart trainer or power meter).
Trainer control/grade simulation: We'll be able to control your trainer's resistance to replicate hilly terrain (requires smart trainer).
Competitive leaderboards: see how well you executed the session, as compared to your fellow athletes (requires smart trainer or power meter).
Real-time feedback: you'll get visual feedback from the platform based on whether you're under, over, or within the target ranges for power and/or RPM (requires smart trainer or power meter)
Community/group riding options: in addition to live sessions, you'll be able to join VOD Replays at a variety of times to connect and ride with other athletes (you can access these regardless of your equipment type)
What is the ideal setup? Will I need specific indoor cycling equipment to be able to use the platform?

No. You can ride on a smart trainer, basic trainer, spin bike/Peloton, or even on rollers. While you'll be able to access all the features of the platform with a direct-drive smart trainer, they are not required. You'll be able to will be able to follow along with our coached videos no matter what.
What is the ideal setup?
I don't have a smart trainer. What is the "next best" setup?

A Bluetooth enabled heart rate monitor (like Wahoo Tickr or Garmin HRM-Dual)
A wheel-on smart trainer (such as a Wahoo Snap) + a separate cadence pod (such as a Wahoo cadence sensor). When paired with a cadence pod, a wheel-on smart trainer should still allow you to take full advantage of all the platform's features. Without a cadence pod, you can still get real-time power metrics, but won't see cadence metrics or have your workout scored on the leaderboards.
OR
A basic trainer + power meter/power pedals. While you won't be able to feel the grade/resistance changes that we program into the workouts, you'll still be able to see real-time cadence and power data onscreen and be scored on the leaderboards.
I have both a smart trainer and a power meter. Which should I use?

If you have a smart trainer, we'd typically recommend using that. We'll be able to add resistance to help simulate hilly terrain and make hitting the target power/RPM a bit easier.
If you historically have had issues with your trainer providing accurate data (this can be a problem for some trainers especially at extremely high/low power and RPM), you might want to use your power meter.
What's the best way to access the platform?

If you have an iPad: You'll want to access the platform through the native Velocity Cycling app, available through the App Store.
If you don't have an iPad: you'll want to connect through a laptop or desktop computer that is running Google Chrome (this is the ONLY browser that will run this platform -- if you try to use Safari, Firefox, or Edge, it will not work).
To access a workout, click the black and blue button in the day's session in Today's Plan.
Will you still offer compatibility for Zwift/TrainerRoad?

Yes. While we hope that all of you join us on the new platform, every workout will still include a Zwift/TrainerRoad compatible structured file just like it does now.
Does this platform use ERG mode?

No. Rather than ERG, you'll use your gears to stay within a target power and/or cadence range This is an evolution we are really excited about: it optimizes your training to better match the outdoor ride experience, helps keep you more engaged in the session, and helps dial in your "bike craft" so that you know exactly which gear combinations will keep you at the right intensity level.
Will I be able to control the music and instructor volume?

Yes. There is a built-in radio with a variety of music genres that you can use, or you can turn the music off and run tunes from a different device. You can also control the music level relative to the instructor -- and even mute the instructor audio entirely if you wish.
Will I be able to sync data to Todays Plan, Garmin, and Strava?

Yes, for Today's Plan and Strava. The platform connects directly to these platforms and all your workout data will be exported directly to them. At this time, there is not a direct link for Garmin.
What types of sessions can I do?

LIVE classes: just as now, these sessions will be live-streamed from the Purple Patch Center in San Francisco on Tuesdays and Thursdays at 7am Pacific. The main difference is that rather than using Zoom, you'll connect through the platform itself, and Matt will be able to see how well you are executing the session and staying in the target ranges -- providing you even more detailed feedback than he could previously.
VOD sessions: just as now, you'll be able to follow along with pre-recorded coached versions of the workouts anytime, anywhere, from any device that can run Google Chrome and has an internet connection.
Replays: these sessions are a community-driven hybrid of live and VOD sessions. Replays are VOD sessions that run at specific times, like movies in a movie theatre. When you join a Replay, you'll be able to see and interact with other athletes in that same Replay session, and will have an in-session leaderboard for that specific Replay. This is a great option to build community and accountability with your fellow athletes.
How do the leaderboards work?

The leaderboard you see in a session will rank how well you executed the workout. It takes into account how well you were able to stay within the target power and cadence ranges, not how much absolute power you were able to push. The % you see next to your name tells you how much of the workout you've been within the target metrics.
You'll get points based on how close you got to the ideal execution of specific portions of a workout (typically the pre-main and main sets). You'll be ranked against other athletes based on those points -- not based on pure strength. So, if someone with an FTP of 300 hits the target metrics for 75% of a session, and someone with an FTP of 200 hits their target metrics 85% of the time, the person with the 200 FTP will be ranked higher. You are rewarded for executing the session well.
Leaderboards are specific to workout type. So, for a given workout, there will be a leaderboard for the live session, a leaderboard for each replay, and a leaderboard for the VOD version.
What if I get interrupted mid-workout or need to pause a workout?

You can pause a workout anytime. Also, if for some reason your connection gets interrupted (e.g. if your internet drops out, the system freezes, or your dog/spouse/child wanders in and accidentally hits the wrong key), don't worry: you'll be able to reload the workout and resume from the point you stopped for up to 2 hours.
I really prefer ERG, but still want to follow the VOD. What should I do?

If you have a smart trainer, you can use the trainer's app on your phone to control power. You can adjust the screen overlays (using the eyeball icon in the top right corner) to hide the unused data gauges.

Note: we do not recommend trying to sync up Zwift/Trainerroad structured sessions with the VODs as they will not align properly and you will likely have issues with Bluetooth trying to connecting to both platforms. The only exception is for those with Kurt Kinetic brand trainers, who either need to run the trainer in dumb mode or use Zwift for control.
I can't always hit the exact combination of power/cadence targets. What should I do?!

First off, know that this is normal – and okay! You may not be able to quite hit every single combination, especially depending on the gearing of your bike. But there are some things you can do to help maximize your chances: first, make sure your weight and FTP are accurate in your profile – these are used to set the default resistance applied to your trainer. Next, try adjusting the "Trainer Resistance" slider just under your FTP. This will help scale the overall trainer resistance, especially during intervals where we apply a grade. Third, do a spindown on your trainer – this helps calibrate the resistance. Finally, if you are really struggling or find yourself constantly running out of gears, email us at

info@purplepatchfitness.com

so we can help you out.