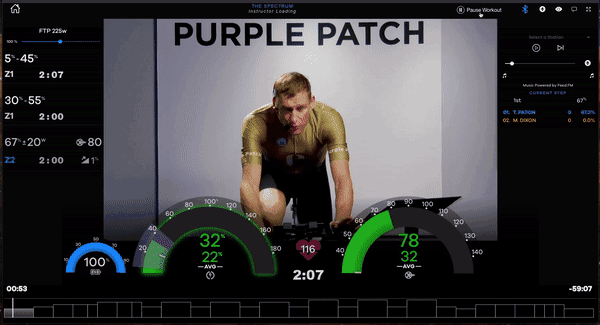 This year, we're transitioning to a new live/VOD platform for our bike and strength sessions.
This is an important and exciting upgrade to our live and on-demand experience, and represents a massive evolution in our capacity to deliver the most effective training possible. Over the next few weeks, you will receive essential need-to-know information for a successful transition.
We strongly encourage every Purple Patch athlete to adopt this new platform. We know change is never easy, even when highly positive, so we ask for your commitment and support in this process.
Lean into this evolution with an open mind. If you do, we promise:
This platform will be a catalyst to accelerate the results from your training.
We will improve. Our results will get better - individually and collectively.


We fully believe in this new evolution. Let me outline why we are making this transition:
Performance: You trust Purple Patch to help you get the best training, and achieve the best results. This is something we take seriously, and this platform opens to door for us to do that. That's why we're adopting it.
Growth: We understand your results flow from proper execution of our training. This platform drives adherence to the intent of the session, and proper execution, in every single workout.
Value: The new platform truly provides the "best of all worlds," fixing many of the limitations and challenges of previous live / on-demand platforms. It also provides upgrades and features that many of our athletes have requested.
Connection and accountability: We have a wonderful like-minded athlete community across the world, and the new platform provides an opportunity to motivate, connect and share your training journey to amplify all our results.
The best thing? These reasons apply to every Purple Patch athlete, from podium-chaser to fitness enthusiast. You will be held to account, rewarded for great execution, be able to take advantage of new features that enhance your training experience, and have more opportunity to jump in and train live with teammates than ever before.
​
We know there have been many questions about thew new platform. We'll be answering them in detail soon, but wanted to address a few key points at a high level:
What will be different?

For the strength sessions: not too much. You'll have the added benefit of being able to control the music independently of the instructor, but otherwise the experience will be very similar to our current VOD platform.
For the bike sessions: quite a bit, depending on your specific setup. If you're on a basic trainer or spin bike, your experience will be very similar to our current live/VOD sessions. But if you have a power meter and/or smart trainer, your experience will be enhanced significantly. We'll have more details on this coming soon.

Will I need specific indoor cycling equipment to be able to use the platform? No. While the 'ideal' experience for live/VOD bike sessions will come through a direct-drive smart trainer like a Wahoo Kickr or Tacx Neo, they are absolutely not required. You'll be able to take advantage of some new features of the platform no matter what your setup is, and will be able to follow along with Matt's videos and coaching cues no matter what -- even if you're on rollers (send us a picture if you are, by the way... that's impressive).
Can I still use Zwift, TrainerRoad, etc? Yes. However - we strongly urge you to give the new platform a chance. Remember: there's a reason we are making this shift. This new system gives us the chance to improve your training experience, and gives you the chance to achieve better performance results than ever before. That said, we aren't here to drive a wedge or force your hand: all workouts will include a file you can run on a third-party platform like Zwift.
When will the new platform launch? Where will I get my login details? Soon! We'll be sharing details via email and dropping them directly into your Todays Plan account. We'll keep you updated every step of the way -- just stay tuned. We anticipate the new platform will be up and running before the end of 2022, and will send out your login details as soon as it's ready.