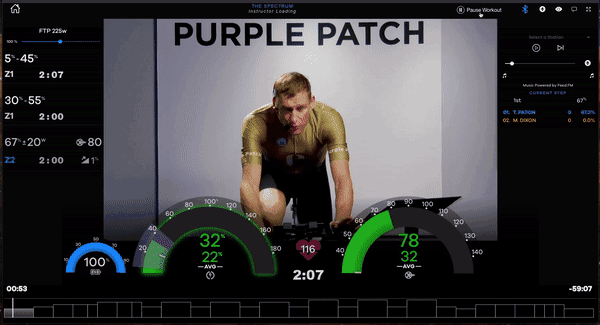 This year, we're transitioning to a new live/VOD platform for our bike and strength sessions.
We know there will be many questions about thew new platform. We'll be answering them in detail soon, but wanted to address a few key points at a high level below. You can also email any questions to info@purplepatchfitness.com.
Why are we doing this?

This is an important and exciting upgrade to our live and on-demand experience, and represents a massive evolution in our capacity to deliver the most effective training possible.

We strongly encourage every Purple Patch athlete to adopt this new platform. We know change is never easy, so we ask you to come to this transition with an open mind.If you do, we promise:

This platform will be a catalyst to accelerate the results from your training.
We will improve. Our results will get better - individually and collectively.

We fully believe in this new evolution. Let me outline why we are making this transition:

Performance: You trust Purple Patch to help you get the best training, and achieve the best results. This is something we take seriously, and this platform opens to door for us to do that.
Growth: We understand your results flow from proper execution of our training. This platform drives adherence to the intent of the session, and proper execution, in every single workout.
Value: The new platform truly provides the "best of all worlds," fixing many of the limitations of our previous platforms. It also provides features that many of our athletes have requested.
Connection and accountability: We have a wonderful like-minded athlete community across the world, and the new platform provides an opportunity to motivate, connect and share your training journey to amplify all our results.

The best thing? These reasons apply to every Purple Patch athlete, from podium-chaser to fitness enthusiast. You will be held to account, rewarded for great execution, be able to take advantage of new features that enhance your training experience, and have more opportunity to jump in and train live with teammates than ever before.
When will the new platform launch? Where will I get my login details?

We'll be sharing details via email and dropping them directly into your Todays Plan account in mid to late February. We'll keep you updated every step of the way -- just stay tuned. We anticipate the new platform will be up and running March 6.
What will be different?

For the strength sessions: not too much. You'll have the added benefit of being able to control the music independently of the instructor, but otherwise the experience will be very similar to our current VOD platform.
For the bike sessions: quite a bit, depending on your specific setup:

No ERG mode / gear-based power shifts: for athletes on smart trainers, this will be the biggest change. Rather than using ERG mode, you'll use your gears to stay within target ranges for the workout. This better replicates the skills needed for outdoor riding and helps keep you present and highly focused on the session.
Live onscreen metrics: you'll be able to see power, cadence, and heart rate in real time (requires smart trainer or power meter).
Trainer control: if you have a smart trainer, we'll be able to control the resistance to replicate hilly terrain.
Competitive leaderboards: see how well you executed the session, as compared to your fellow athletes (requires smart trainer or power meter).
Real-time feedback: you'll get visual feedback from the platform based on whether you're under, over, or within the target ranges for power and/or RPM (requires smart trainer or power meter)
New community riding option: in addition to live sessions, you'll be able to join Replays at a variety of times to connect and ride with other athletes (you can access these regardless of your equipment type)
Will I need specific indoor cycling equipment to be able to use the platform?

No. You can ride on a smart trainer, basic trainer, spin bike/Peloton, or even on rollers. While you'll be able to access all the features of the platform with a direct-drive smart trainer (like a Wahoo Kickr or Tacx Neo), they are absolutely not required. You'll be able to take advantage of some new features of the platform no matter what your setup is, and will be able to follow along with Matt's videos and coaching cues no matter what.
What's the best setup for viewing/using the platform?

If you have an iPad: You'll want to access the platform through the native Velocity Cycling app, available through the App Store.
If you don't have an iPad: you'll want to connect through a laptop or desktop computer that is running Google Chrome (this is the ONLY browser that will run this platform -- if you try to use Safari, Firefox, or Edge, it will not work).
Can I still use Zwift, TrainerRoad, etc?

Yes. All bike sessions will still include structured power files.
However - we strongly urge you to give the new platform a chance. It gives you the chance to achieve better performance results than ever before. That said, we also aren't here to drive a wedge or force your hand, so power files will always be available.
Can I still use manual ERG mode if I prefer it?

Yes. If you wish, you can simply follow along with the videos while controlling your bike in ERG with your phone. In this case, since you aren't using the gauges, you can click the eyeball icon in the top right corner of the screen and click Data Gauges to turn the overlays off and focus purely on the video.
Will I be able to control the music and instructor volume?

Yes. There is a built-in radio with a variety of music genres that you can use, or you can turn the music off and run tunes from a different device. You can also control the music level relative to the instructor -- and even mute the instructor audio entirely if you wish.
Will I be able to sync data to Todays Plan, Garmin, and Strava?

Yes, for Today's Plan and Strava. The platform connects directly to these platforms and all your workout data will be exported directly to them. At this time, there is not a direct link for Garmin.
What types of sessions will be available?

LIVE classes: just as now, these sessions will be live-streamed from the Purple Patch Center in San Francisco on Tuesdays and Thursdays at 7am Pacific. The main difference is that rather than using Zoom, you'll connect through the platform itself, and Matt will be able to see how well you are executing the session and staying in the target ranges -- providing you even more detailed feedback than he could previously.
VOD sessions: just as now, you'll be able to follow along with pre-recorded coached versions of the workouts anytime, anywhere, from any device that can run Google Chrome and has an internet connection.
Replays: these sessions are a community-driven hybrid of live and VOD sessions. Replays are VOD sessions that run at specific times, like movies in a movie theatre. When you join a Replay, you'll be able to see and interact with other athletes in that same Replay session, and will have an in-session leaderboard for that specific Replay. This is a great option to build community and accountability with your fellow athletes.
How do the leaderboards work?

The leaderboard you see in a session will rank how well you executed the workout. It takes into account how well you were able to stay within the target power and cadence ranges, not how much absolute power you were able to push. So, if someone with an FTP of 300 hits the target metrics for 75% of a session, and someone with an FTP of 200 hits their target metrics 85% of the time, the person with the 200 FTP will be ranked higher. You are rewarded for executing the session well. (Don't worry, nobody will be able to see your absolute FTP.)
Leaderboards are specific to workout type. So, for a given workout, there will be a leaderboard for the live session, a leaderboard for each replay, and a leaderboard for the VOD version.