SETTING THE STAGE FOR THE VELOCITY PLATFORM: WHAT IS 'NORMAL'?
Remember that we are simulating an outside riding experience. This means that some parts of the sessions will be tough to hit the prescribed zones (green). In most cases, this is okay and can even be purposeful. But we don't want you to be too far off the mark.
Case Study: A recent session - Managing Grades with Gears. In this workout, we simulate variable terrain in each interval from -1% to +7% grade. Your goal is to stay in Z3 at 85RPM to teach effective gear shifting.
On very steep sections (6-7%), it might be impossible to stay 'green' at Z3. Just like outside, the hill demands work. So how do you know if you are good to go, or need to make adjustments?
Good to go: You're able to hold 85 rpm but might need to go into your lightest gear - and the power might hit Z4 (120% or less of FTP).
Adjustments needed: Your power bursts into Z5 (over 125% FTP) and/or you're unable to hold cadence. If this is happening, we need to reduce trainer resistance in Velocity (more on this below).
What's OK:
Having to use your smallest chainrings (we promise ;) )
Edging into one higher zone (Z3 –> Z4 or Z4 –> Z5) on grades >5%
Struggling to get enough power on negative grades, even in your biggest gear at high RPM
What's not OK:
Running out of gears during easier or moderate efforts
Struggling to stay "in the green" for power and/or cadence even at shallower grades (3-4%)
Finding yourself far over the prescribed power (e.g. into Z5 for a Z3 effort, or Z2+ for a Z1 effort)
If you find yourself out of gears, and/or really struggling to hit prescribed power and cadence, here's what we recommend:
1) Make sure you're set up correctly. This means having the correct FTP and weight in Velocity, and ensuring that you've correctly enabled trainer resistance control during the connection process.
2) Adjust your trainer resistance. In some cases, due to your cassette size, firmware or other factors, the resistance applied to your trainer may be a bit too excessive (or too light). If you find yourself consistently running out of gears, and/or ending up way in the red on moderate grades, try adjusting the Trainer Resistance toggle on the top left corner of your screen up or down by 20-50%. This will adjust how grades are applied to your trainer. It doesn't make the overall workout or targets any easier – it just adjusts how strongly/lightly resistance is applied: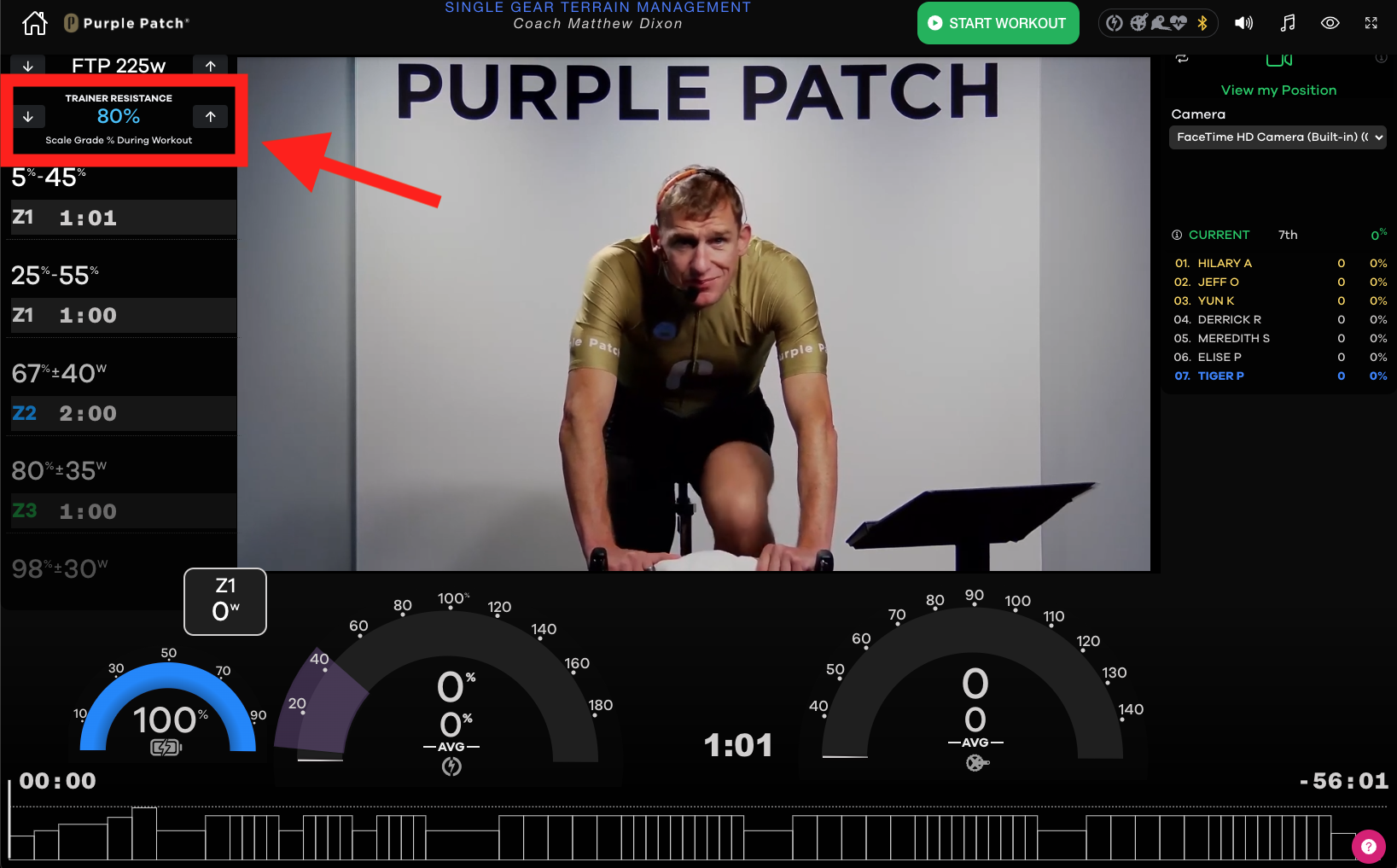 3) If you feel like you still can't get things right: reach out. In rare cases, there may be hardware or software issues that we can help you address so that you can ride successfully.