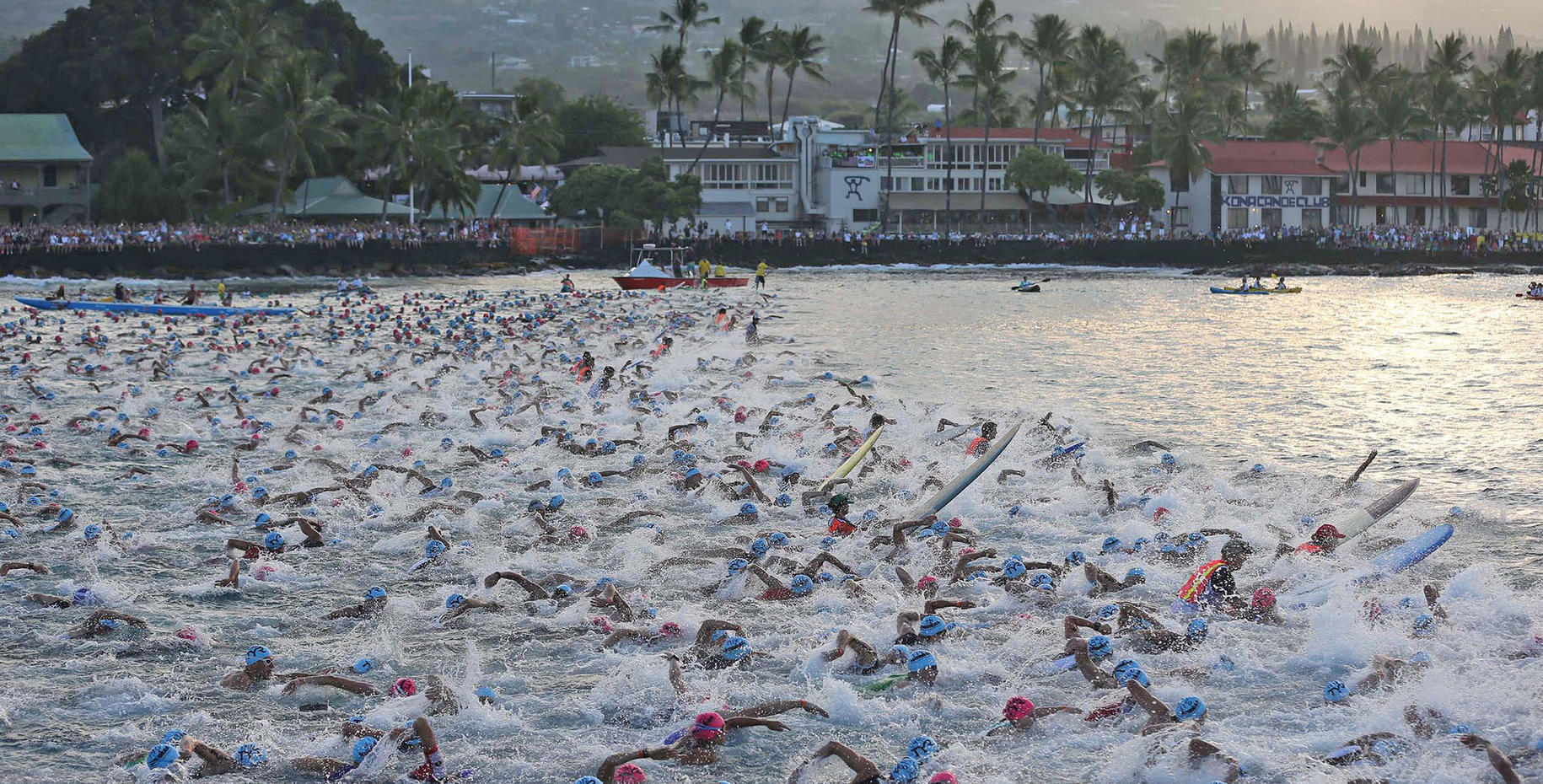 Optimizing Your Chances for a Kona Spot
August is our month to focus on the Championship races and how to qualify for them. This post focuses on picking the right race to improve your chances of having a great performance and qualifying for the World Championships in Hawaii. There's a wonderful British proverb, horses for courses which essentially means different people are suited to different things or situations and guess what, it applies to triathlon too. Not only should you think about the aspects of a race-course that suit your strengths, it is critical for you to consider the race factors that favor you relative to others.
What Kind of Swim Course?
The optimal course choice for someone who considers the swim a relative weakness is a wetsuit swim; however, a non-wetsuit swim in salt water is the second-best option since the salt water also adds buoyancy. When it comes to the swim portion of the race, weaker swimmers are advised to avoid non-wetsuit, fresh water swims (e.g. IRONMAN Texas).
Another option for weaker swimmers would be races that include current-assisted swims that potentially reduce total swim times for everyone (e.g. IRONMAN Chattanooga and IRONMAN Cozumel). Weaker swimmers might also avoid races that have very cold swims, as you could risk not being able to generate enough body heat during the swim to stay warm. Of course, if the swim is your strength, I would direct you towards non-wetsuit swims and suggest you avoid current-aided swims as long as the bike and run portions of the race suit your strengths too.
Hills or Flats?
IRONMAN bike courses around the world vary from very hilly ones with 6,000ft+ of climbing such as Whistler, Lanzarote, and Los Cabos, to courses flat as a pancake such as Cozumel and Maryland. It's up to you to evaluate whether you perform best on 'tough', hilly courses or flatter, faster bike courses. There are also bike courses that require high power and sustained efforts due to the rolling terrain and/or windy conditions. These races include Wisconsin and New Zealand. Finally, don't forget technical bike skills since certain courses (e.g. France) include challenging terrain and downhills that favor those with superior bike handling abilities.The same concept applies to run courses and understanding your personal strengths. Do you prefer the changing load of mixed terrain, including hills or are you better suited to fast running on the flats that will test your resilience?
Environmental Conditions
Once you've evaluated the course features, you need to layer on the typical weather conditions (wind, heat, humidity etc.) to create the complete picture of the race. While everyone would love to race in weather that is 65 Fahrenheit, partly cloudy with no wind, those dream conditions rarely materialize so take the time to understand how you perform relative to others in hotter or colder climates. Remember, it's about how you perform relative to others!
The biggest race on the IRONMAN calendar is Hawaii and there is a certain type of athlete that will always be better due to its demands. It isn't always the best athlete who wins, it is the athlete that is best able to meet the demands of this unique windy, hot and humid event. If you are a strong runner that is emotionally and physically resilient and operates relatively well in heat, then choose a hot race. If riding is a weakness, then you might select an easier (faster) bike course such as IRONMAN Florida. If you are strong on the bike, then seek out a race with heat and hills. Cooler weather is also a factor for athletes to consider so if your personal mantra is 'the tougher the better', you might consider a race with a history of those conditions such as IRONMAN UK and Wales or Challenge Iceland.
Timing
The 2-3 months leading into an IRONMAN race are critical for proper preparation for your race. It's imperative that this timeframe works with your family schedule and work commitments. Great performances arrive out of consistency of training and arriving on the start line healthy. Therefore, your training and personal schedule should not only allow for training time but also for good sleep plus time to fuel and refuel in between workouts. What will your local weather be like in the 2-3 months leading into your race? Early season IRONMAN races can be challenging for those that live in places where winter can be harsh and long with limited opportunities to ride outdoors.
Process Not Outcome
It's not the first time that I've talked about focusing on the process rather than the outcome. While you can research the races, evaluate your relative strengths and weaknesses, and plan for your race, the real performance emerges from enjoying the process. At purplepatch, we always focus on the athlete evolution to get the best out of themselves via consistent preparation and not going into the race overly focused on the result of qualification. If your focus is on self-improvement and your best performance then the results will happen. As soon as you get caught up in the competition or a specific time, it draws away the focus from what you can control and becomes a performance limiter.