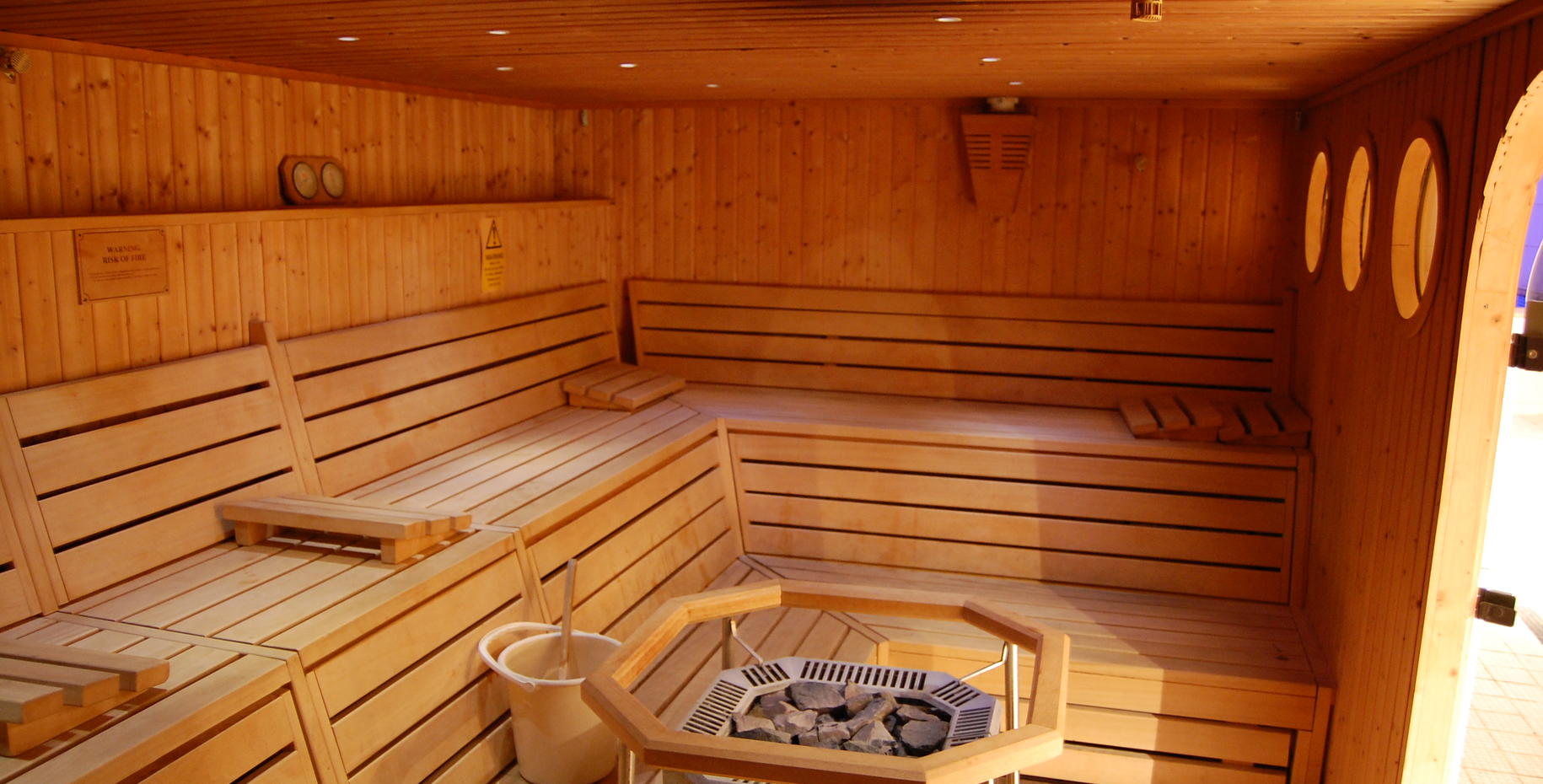 Introduction
People have been regularly bathing in saunas for centuries, but what is less well known is that sauna bathing is similar to hard exercise in terms of the response of your cardiovascular system and hormones involved with controlling your blood and body fluid volumes. Similar to exercise you should be mindful of how you feel. Sauna bathing should be maintained only for as long and as hot as you feel comfortable. Above all, it should not be undertaken in a competitive manner!
The following guidelines will help you gain the maximum benefits from the sauna in the safest way. 
Guidelines for Safe Sauna Bathing
Try not to drink while in the sauna.  Pour water over your neck and on your tongue, take a cool shower and get back in, trying to stay in for at least 25-30 minutes. Resting heart rate will be high!! (~140) so adapt your training accordingly!
Upon exiting the sauna, slowly rehydrate over the course of 2-3 hours. Gulping down fluid in large amounts after sauna bathing will cancel out the heat stress response to the kidneys.
Be conservative when pouring water on the stove as most of the unpleasant experiences and accidents are caused by pouring too much water on the stove.
Do not use the sauna if you have been recently drinking alcohol, as it increases the risk of a heart attack or stroke, as well as decreasing your judgment, coordination, and balance.
If you have any muscle or joint ache, swelling, redness, or tenderness at rest (or with light exercise), do not use the sauna.
Do not use the sauna if you have any exuding bruises or sutured wounds.
Remain in the seated position while in the sauna.
Leave the sauna if you start to feel uncomfortable.
Have a warm shower after leaving the sauna. If you want to have a cold shower, wait at least five minutes.
How to Use a Sauna Before a Hot Race 
The sauna protocol is relatively stressful therefore it is key that you carefully select your races you choose to use this protocol for. We would suggest only using it 1-2 times per year for key races that are either at altitude or in heat/ humidity. Timing is everything to ensure you benefit from sauna protocol AND arrive refreshed and ready to race. The easiest way to set up the protocol is as follows:
Set your travel day (to the race site) way in advance. This will be your cue for when to employ the protocol.
5 days prior to your travel day (to the race site), you do not do the sauna protocol. The physiological benefits are already gained and will not be lost.  This break allows rejuvenation and recovery from the protocol.
The 7 days prior to the 5 days 'buffer' is when you employ the sauna protocol (~ 12 to 5 days prior to race site travel).
The protocol is followed daily, following daily training for the entire 7 days.
You should aim to be in the sauna 30 minutes following training (if possible).
No rehydration following training or in the sauna. Gradually rehydrate over the subsequent 3 to 5 hours.
Alternative Option (If Sauna is not Accessible) 
An alternative, if you do not have sauna access is Bikram yoga. You are free to take the full 90-minute session, as the temperature is lower in Bikram. Please do not rehydrate. If you get too uncomfortable in the studio then lay down (it is cooler low). If you are still feeling the effects, leave the room and begin rehydration. It is optimal if you can follow the sauna protocol during a week of lighter overall training. During this time, be very aware of maximizing sleep, hydration outside of the protocol, as well as proper daily fueling and nutrition.
Frequently Asked Questions
Q: How soon after a training ride does one need to get into the sauna? That is, what is the window beyond which it becomes too late to be effective?
A: The ideal window is within the hour of finishing training so that you are still dehydrated and the exercise stress mechanisms are still active; however if you need to hit the sauna after work and training was lunchtime that's okay - just be low on body water prior to sauna.
Q: To clarify, "being low on body water", I can finish the bottles I have on my bike but not drink more at that point, then go into the sauna for 5-30 min, then gradually rehydrate after that (when I leave the sauna).
A: Correct.
Q: Does it matter if it is a dry or wet sauna?
A: Preferably dry as they are hotter.
Q: How frequently should I be doing the sauna protocol?
A: Shoot for five to six days within the next two weeks.
Q: How do the physiological mechanisms work, specifically the kidneys' response to altered blood flow and increased RBC production?
A: The dehydration is a reduced plasma volume, thus you have compromised blood circulation when you head into the sauna.  Ultimately, when you hit the hot conditions, the blood is pushed into the skin to help you cope with the heat AND what little plasma volume is left is used for sweat, pulling on body water reserves to produce the sweat. You'll feel this as the high resting heart rate.