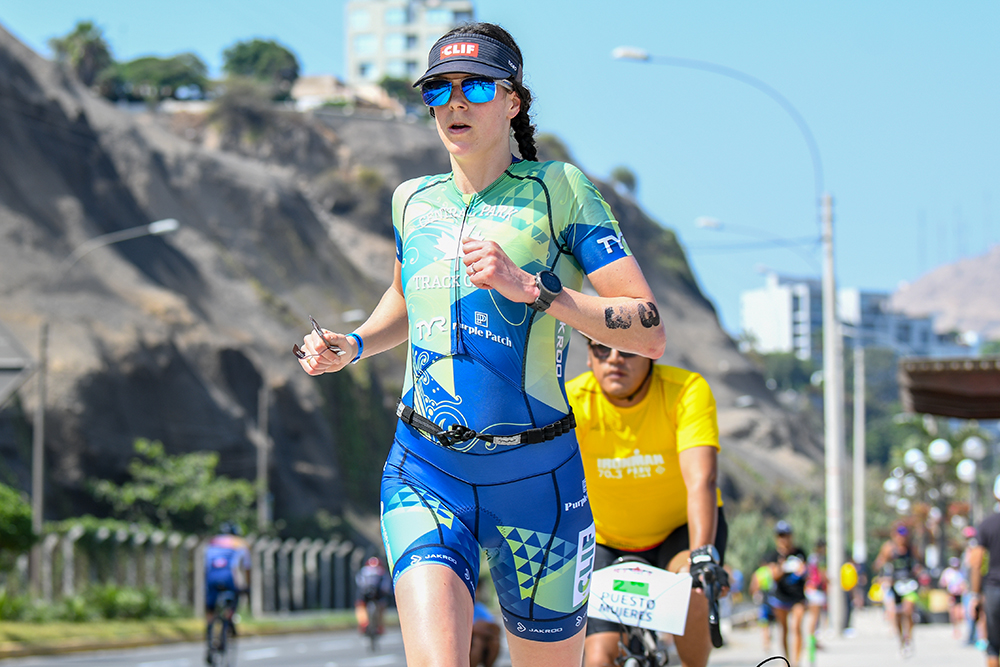 Author:  Matt Dixon
A little celebration - with lessons - from an athlete journey for this week.  This weekend was a special weekend for Purple Patch professional Cecilia Davis Hayes, as it was the last race for her for a little while.  You may remember her name from listening to Episode 54 on the Purple Patch Podcast, as Cecilia is no normal triathlete competing at the pro level.  Cecilia has been developing and competing at the level for the last couple of seasons, while concurrently being enrolled at Columbia Medical School.  She joined Purple Patch three years ago with just a few triathlons under her belt, very limited swimming and running experience, and a crazy dream to wedge rapid development as an athlete into a crazily time-starved life.  While the first year allowed more capacity, thanks to Columbia supporting her dream and allowing her to focus more on research, the last 18 months have been a puzzle for her to navigate. This weekend capped an amazing journey for her with a great performance at IRONMAN 70.3 Mont Tremblant, and now she heads into the dreaded world of residency.  She has chosen Cornell as the destination, and for Cecilia and myself, competing at the pro level in the time of residency is just a bridge too far. With this, it is a great time to reflect on what she accomplished and some key elements to her success from which we can learn.
Over the last few seasons, CDH (as we like to call her) radically improved her swimming performance, biking capabilities, and run speed.  She has transitioned from a good amateur to a very good amateur, then to rookie pro and ultimately a highly resilient and consistent performer in the pro ranks against world-class competition.  Podiums and consistent Top 5 finishes, all accomplished in a radically short time frame of development, as well as within the context of a crazily compromised schedule relative to the luxuries of most pros.  It is one of the most inspiring and successful stories of performance within context that I have ever seen. I cannot overstate how inspiring her journey has been, and if you are looking to draw some lessons on how to integrate performance into a time-starved life, you could not do better than to review CDH's approach.  Let's dig in and give you some of the coach's highlights. Perhaps when CDH comes up for air to breathe, we can have her back on the podcast to explore more. Until then, a few tidbits:
Coachable
Cecilia is clearly smart, but a key characteristic of excellence is to have the humility to be coached.  She embraces this quality in so many ways, but the quick-hit list for me:
Executing the plan as intended (including not going too hard on the easy days)

Eager to understand the mission and meaning behind the plan

Providing objective feedback and review then acting on any coaching advice
Nails the Basics
CDH never strayed from the focus on the very basic, yet critical elements of performance.  This included:
A clean set of eating and fueling habits without obsession or distraction to fad diets or supplements

Dialed in equipment and then left it alone, refusing to be a massive tinkerer of perfectly functioning gear

Committed to sleep even when time starved

Embraced recovery as much as training hard

Didn't over-complicate with an obsession of metrics or analytics
Focused on Her Needs and Maintained Perspective
When developing within the challenge of schedule and other demands, there is potential for distraction or confidence erosion from hearing about others' quests.  But:
CDH never compared herself to others, she simply maximized what she could control and then went and raced her heart out.

She raced with pure joy.  The quest was more about her best performance, not simply where she came.  An example was her joy and pride in a wonderful personal performance that didn't even get her into the Top 10.  CDH raced great, in a wonderful field, and was satisfied with her own performance

She never complained or was bitter at misfortune.  Two bogus penalties (and a wasted trip) in an early season IRONMAN 70.3?  Frustration, of course, but the key ask from CDH was. "What can I learn and how can I avoid this in the future?"

Life brings rest days.  Despite lofty goals, she also had to retain pragmatism without self-persecution and was confident and happy enough to miss training in the short-term if it meant better performance across life and sport in the long-term.
Please read the list.  Then re-read. Lots of nuggets in there for us all to draw from.
Congratulations, Cecilia.  We can now sneak a little hidden prep for the New York Marathon.  It is only a marathon after all! You should be fine for that within the scope of residency.  We are all proud to have been a part of your journey so far.
Matt