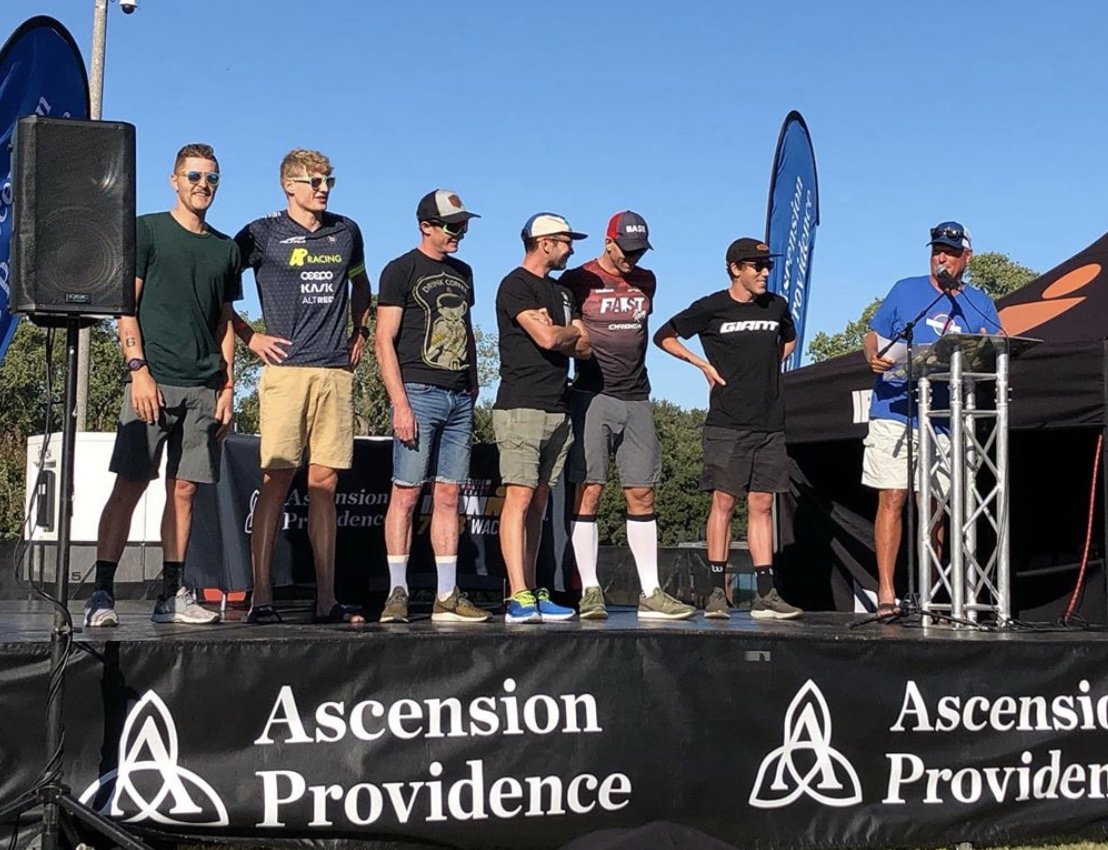 Elliot Bach, far left, 6th place at IRONMAN Waco 70.3, 2019
Some performance words that are of no news to many of you reading include 'resilience,' 'adaptability,' 'the journey,'  'toughness,' and, of course, ' evolve or die.'
We draw many references to these types of words and continually discuss case studies of many of our better known elite and pro athletes.  This week, we highlight the wonderful journey of determination, reinvention, and courage of young pro, Elliot Bach. Elliot is led by Matt Hurley and has gone through an incredibly challenging emotional and physical journey to evolve.  At the start of this season, his recipe simply wasn't working for him. There was some turmoil in his personal life, forcing lots of changes and travel, with a training approach that simply wasn't providing him with the yield of improvement his effort in training deserved.  Something needed to change, but, in truth, almost everything needed to.
As a young pro who has given up so much just to give himself the opportunity to begin the arduous and long journey of growth in the sport, the risk is massive and the potential reward is minimal.  It is a journey of personal sacrifice and commitment that will not be executed in the bright lights, nor receive adoration from fans (at least yet). When things begin to go wrong, when life and the sport delivers challenge, and when the results across the board are not positive, every signal shines brightly guided toward the exit.  It is so so easy to quit. To give up. Go and build a normal life and begin a new path. There would be no shame or guilt and many would say it would be sensible. For Elliot, his commitment and passion were too strong. Far from delusional, Elliot was committed to the journey, and in the last months, I have seen grit, resilience, adaptability, and a commitment to evolve that is some of the most impressive I have witnessed.  It has been led by the expertise of Matt Hurley, not me, which makes me even more proud.  
Collectively they mapped a shift in habits, setting, training rhythm, and global approach.  They worked together to turn the tanker (and trust me, Elliot is a big tanker!) in the right direction and get traction.  We knew it would not be a quick fix, but beyond the hard work that is required, it took a massive amount of the aforementioned words from coach and athlete.  Elliot -- or "Texas," as I like to call him - lived it - humility in learning, commitment, pride and, follow through.
This weekend at Waco 70.3 -- a paycheck.  6th Place. You must realize how important and joyous this is.  A young guy, taking a risk the right way, all-in on his commitment and passion.  Validation and progression. He belongs. He raced and race well. He put together a solid run on the back-end of a great global performance.  Is it his dream? The end of the journey? Of course not, but it is massive progress and we move in the right direction.
These are the people we can all learn from.  These are the people that become the best leaders, the most employable following their careers, the best coaches.  Whatever he chooses. He is a warrior -- and can now progress on and continue his personal journey.
It isn't a job finished, but it was a heck of a task and execution to get to where he even is now.  In time, Elliot will look back and appreciate that. For now, keep on my lad, you are not done yet! Complacency kills, so nose to the grindstone, please!

Onwards.

Matt